Each worker must be provided with first aid facilities, equipment and access to first aids.
We have put together this guide, inspired by WorkSafe NZ, for you to reference what you need to consider when deciding what first aid equipment and facilities you'll need at work. We will also suggest ways to help organise your first aid kits & facilities!
What is a first aid kit?
First Aid is the basic care for an injured or sick person before a doctor or another health professional/emergency service takes over. The goal of the first aid kit is to minimise further or serious injury.
Example: Ensure the patient is breathing, attempting to stop bleeding and stabilise broken ligaments.
There are 3 things you'll need to think about when deciding which equipment and facilities you'll need in your workplace.
Do you have enough first aid kits and facilities? Like a first aid room.
How many first aiders do you need? These are people who have been trained to give first aid within the workplace.
What information will you need to give to your workers regarding first aid?
First aid kits
Each workplace must provide at least one first aid kit and ensure workers within the business know where it is.
They should contain basic equipment to address injuries;
Cuts, scratches, punctures, grazes and splinters
Soft tissue sprains and strains
Minor burns
Broken bones
Eye injuries
Shock
Contents in each first aid kit are reflected on the particular risk of the workplace at that time.
Example: Being in a work environment having the need for eye pads.
The equipment used can be high risk because:
The handling of chemical liquids or powders
Carrying out spraying, hosing or abrasive blasting
A chance of the particles flying into their eyes
A chance of being splashed or sprayed
Welding, cutting or machining operations
See below an example of a work first aid kit.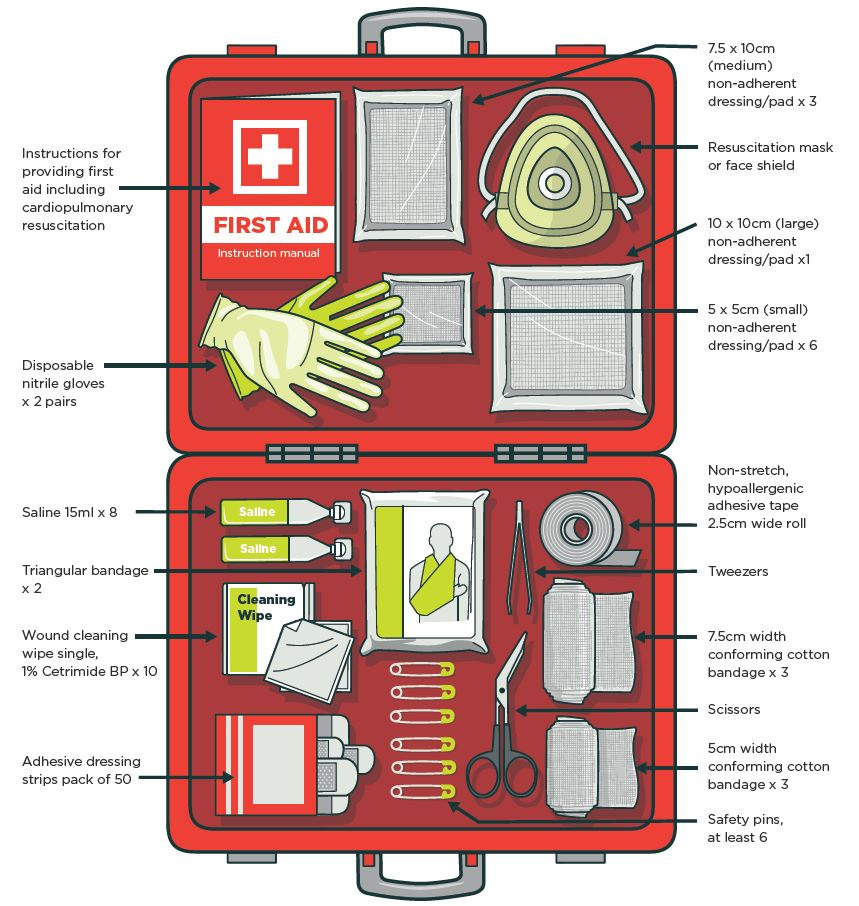 Remote workers
If your workers are in isolated locations (working remotely) they must also have both a basic first aid kit on hand & a remote first aid kit if required.
Each first aid kit, both basic and remote, must be customised to the work they are partaking in.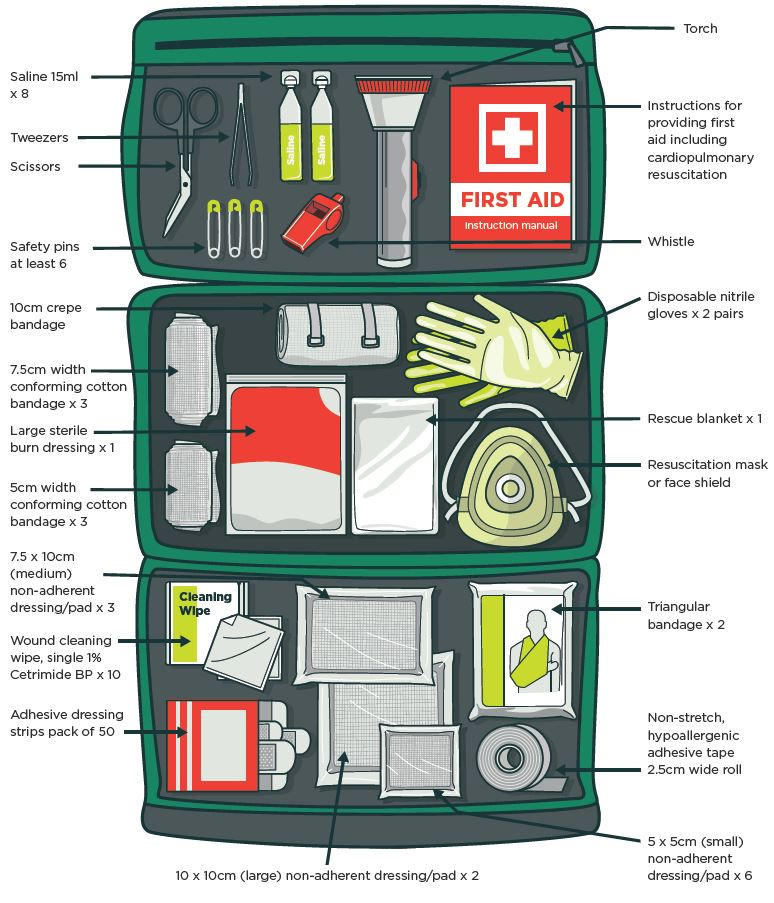 Extra equipment
Communication equipment – For remote or isolated workers they must have a plan of how they will get help if injured.
Medication – You can choose to provide pain relief medication like Panadol or aspirin, Please be aware that these can have side effects.
Pain relief medicine should only be in pack sizes which are available over the counter in general sales or pharmacies. Keep these in the manufacturer's original packaging as this has the relevant information about dosage warnings, batch number and expiry date.
Medicine should only be given by someone who is medically trained, otherwise, it is considered to be self-administered by the worker if they choose to take it.
Maintaining and restocking
Nominate a person at your workplace to maintain the first aid kits. This person will need to;
Monitor usage and insure items are replaced after practical use
Check at least once every 12 months to ensure kits are a complete set of required items. It is advised to record these cheeks as they happen which can be done within an hour.
Ensure content within the First Aid Kit is in working order. Replace any expired or broken sealed product.
Other equipment
As mentioned, each workplace will have a different requirement for what is needed. Some issues that we haven't yet talked about include;
– Automated external different be later
– Emergency I wash equipment
– Emergencies that shower equipment
Keeping workers & businesses safe is our priority. We have partnered with Oceania to provide a [INSERT DISCOUNT AMOUNT] if you used the code: [INSERT DISCOUNT CODE] at their check out.
Don't wait! If you can't remember what is in your First Aid Kit at this moment, take this as a chance to check on your kits now.
Don't know where to start? Let us help set you up for success!
Or call us on 0800 748 763.